The end of the trail
The bullock had gone through into the next field, and by the time they reached the gap there was no sign of it. But the trail was not difficult to follow – great splashes of blood in the grass. The wound was obviously a severe one, and, losing blood in this way, the animal was bound to tire fairly quickly. They started after it in high confidence.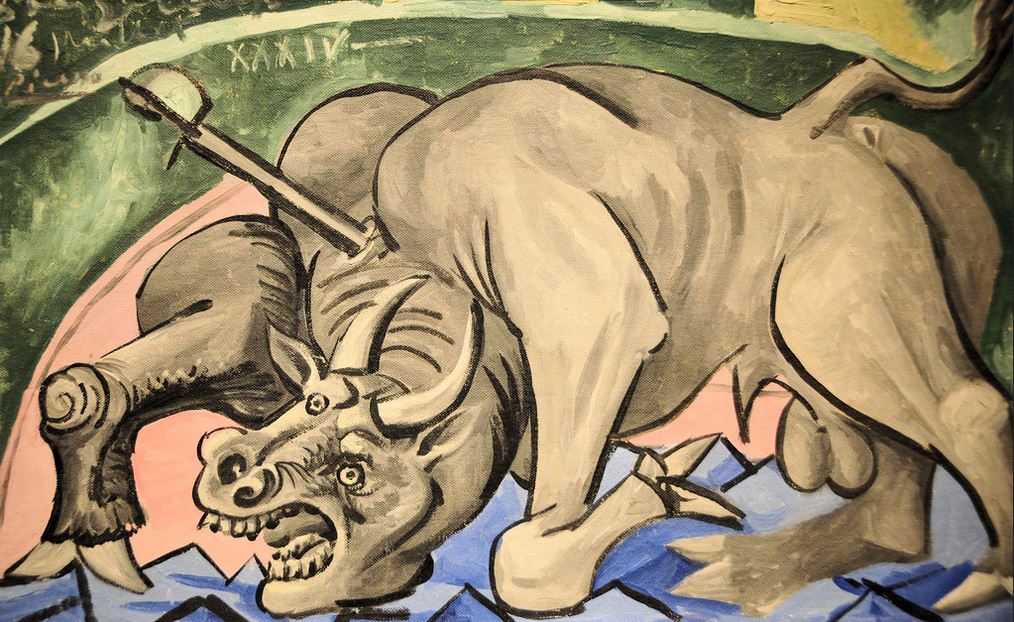 The confidence was somewhat diminished as time passed without their coming in sight of the bullock. The trail led through a copse – marked not only by blood but by bushes crushed and branches broken in a blind blundering progress – over open ground and a lane, across a field that was a tangle of untended pea plants, and still on. Twice they lost the trail altogether, and had to cast around to find it again. The second time, in a wood, they were all of ten minutes hunting it. When, at last, Charley cried out in triumph, and Matthew looked where he was pointing, he felt more surprise than anything else at seeing the animal.
This was a very small field, perhaps a paddock – there were ruins of a big house nearby. The bullock was in the centre and on its knees. As Charley shouted, it struggled to its feet and ponderously turned about to face them. Blood dripped from a gaping hole below its right eye, and its jaw-bone glinted white in the sun. It gave a dull, moaning roar, and pawed the ground. It shuddered, and Matthew lifted the gun, ready for another attack. But it shuddered again, dropped back to its knees and, as they advanced cautiously towards it, rolled over on its right side.
They came to it in silence, still wary. But there was no doubt about its being dead; its eye stared lifelessly into the sun.