The last supper
She put her boots on and went outside. Already, in so short a time, the tent had become stuffy, and she breathed the fresh night air with relief. A brown hump showed where Katerina had curled up in the snow. Nadya made a whistling sound through her teeth, and the bear sat up, shaking herself. Nadya had given her supper before retiring to the tent; now, tearing open the haversack, she reached inside. She grabbed in haste, and threw an assortment of things across the snow: some carrots, a couple of apples, and a handful of biscuits.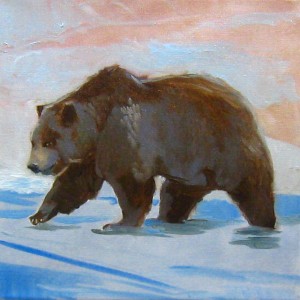 'Eat while you can,' she said. 'The rest they steal.'
Katerina moved in a leisurely fashion to retrieve the items that had been tossed to her. Nadya picked up the haversack and stooped down to get into the tent. She hesitated, straightened up again, and fished once more inside the bag. She took out a can of syrup, prised off the lid, and walked with it to Katerina. She put the open can down on the snow.
'You are a faithful bear,' she said. 'Perhaps too faithful. I think you should not stay longer – they talk of eating you.'