Then he felt fear
He awoke, hearing a sound that he could not place at first, but metallic, familiar. Of course – the door handle being turned. The door opening. Footsteps. Not just of one person; two at least. Drowsy with sleep, he said:
'Who is it?'
Deeping's reassuring Yorkshire voice: 'It's all right, Douglas. Not to worry.'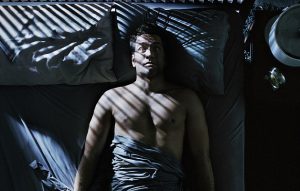 But spoken quietly. And the footsteps coming nearer, towards the bed. He sat up, and said sharply:
'What do you want?'
There was a faint light from beyond the window – moonlight behind cloud. Two figures silhouetted themselves against it. Deeping, and … Ruth!
'She's come back, then,' he said. 'And the boy? Is Andy all right?'
There was no reply, but a third, smaller outline crossed the faint rectangle of light. It was only then that he felt fear.