You saved my bacon
Hilda had the girl's back bared, and looked at it. It was horrifying enough – marked with great weals which had bled in several places, one of them bleeding afresh where she had been knocked. She bathed it, and dressed it, and told the girl to go to bed for the day. She had remained silent up to that point, although the dressing of her back must have been painful, but now became voluble. She begged to be allowed to stay at work; otherwise it would mean another beating.
Leaving her weeping, Hilda went to tackle the Commander about it. He was pleased to see her, but indifferent to the subject of her mission. The girl deserved what she had got, and would get more of the same unless she mended her ways. She was nothing, a pair of legs. They could pick up a hundred like her in half an hour in Pallister. He accepted Hilda's angry reproaches, grinning. She was not to worry over that sort of thing. It would have been old Ape that cut her about a bit. He'd made himself a fancy whip, with knots in it. Ape stared at them silently, busy with his teeth. Regular devil old Ape was, the Commander said, when he got going. Didn't know his own strength. As for the girl … he shrugged. If Hilda wanted to give her a day off, that was all right, too. It was her department, and he didn't interfere. She could tell the girl he had said so.
Hilda told Rod about this in the linen room, leading off the kitchen, which had become her preserve. It gave them the chance of a little privacy, impossible in the crowded conditions upstairs. Rod said:
'Did she go off?'
Hilda nodded. She looked tired. Her face was drawn, and he realized that she was older and thinner in appearance than she should be. All this strain. She said: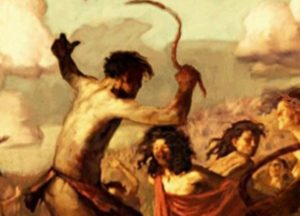 'When I told her it was the Master's command, she went. If you'd seen her back …'
'She'll be all right, with rest.' It was Hilda who needed rest, he thought, but knew there was no point in bringing that up. 'Don't worry about her.'
She said:
'Part of the time I persuade myself that they're just kids, play-acting, and then you suddenly get brutality, like this.'
'Kids can be brutal, when there's nothing to check them. We're lucky.'
'Lucky?'
'That he's got absolute authority, and that you remind him of his old Mum. You saved my bacon, love.'
She looked at him. There was an expression of concentration on her face, almost of pain.