A fatal choice
The pain tightened across her chest. There was nothing to say, and speech itself was an agony from which she shrank.
For the first time since the fall, Albrecht spoke. His voice sounded dazed, almost disbelieving.
'I am not sure, but I think perhaps two could be saved.'
'How?'
'If you cut one of the ropes, there will be only half the weight on you, Cynthia. It is possible that you might be able to lift the other – enough so that he may get a foot-hold, and climb.'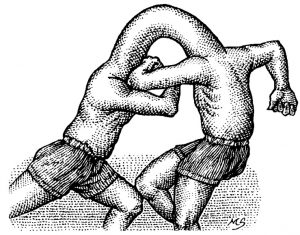 A silence followed. There was only the noise of the plunging water.
Then Henry said: 'I think he's right. It's worth trying. You've got to do it, Sinner – you've got to cut at least one of us free. For God's sake, do it quickly, if only for the sake of the other. You won't have the strength for much longer.'
She knew he was right. The weight that dragged her down seemed to get heavier and heavier. The strain plucked at her eyes; her mind was beginning to fog. She had a little time left for saving herself, and perhaps one of them.
She looked down, and saw the two men staring up at her. Their expressions were the same. They showed no hope; only fear, and love.
Opening the knife, she looked away from them, concentrating on the rope. The blade sawed against the taut nylon.