A moonlit swim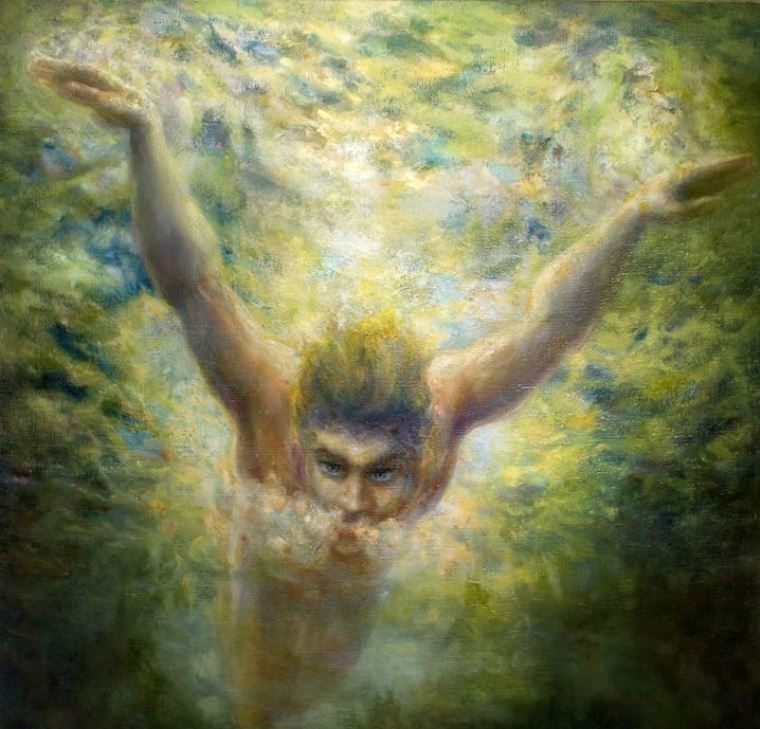 Poley plunged forward and began to swim away from me.
'Don't finish that bottle off,' he called. 'I'll want a drink when I get back.'
I watched him until his head was very small, and then went back myself and sat on the beach. There was some chill in the air. I found a rag in the cabin of the truck, and dried myself and dressed. As far as my vision went, the sea was empty now. I could see the island dimly, but between me and it there were only the white lines of waves. It was certainly more than half a mile away. Surely, I thought, Poley would have the sense to turn back. I opened the bottle of whisky and drank from it. It occurred to me that there was a very good chance that Poley would not turn back, or not in time.
At the end of an hour, I was sure he would not. I thought of him as already dead, and could spare him no sympathy from the awareness of my own predicament. A court of inquiry, and a court-martial almost as certainly. These were bad enough, but it was the prospect of being caught in something so ridiculous that really upset me. I began to hate the dead Poley as the source of my misfortunes.
I stayed on at the beach, not from any feeling that Poley might return, but because I was reluctant to start the journey back to the battalion. I lay on the beach, and after a time I dozed, and at last drifted into sleep. I was awakened by a wet hand slapping my face. I looked up, and Poley was standing over me. He looked completely exhausted. I scrambled to my feet.
'Pleasant dreams?' Poley asked.