Could we ever be happier?
Round the bend the Grand Canal narrowed towards the Rialto Bridge. As they drew near it the water was turning to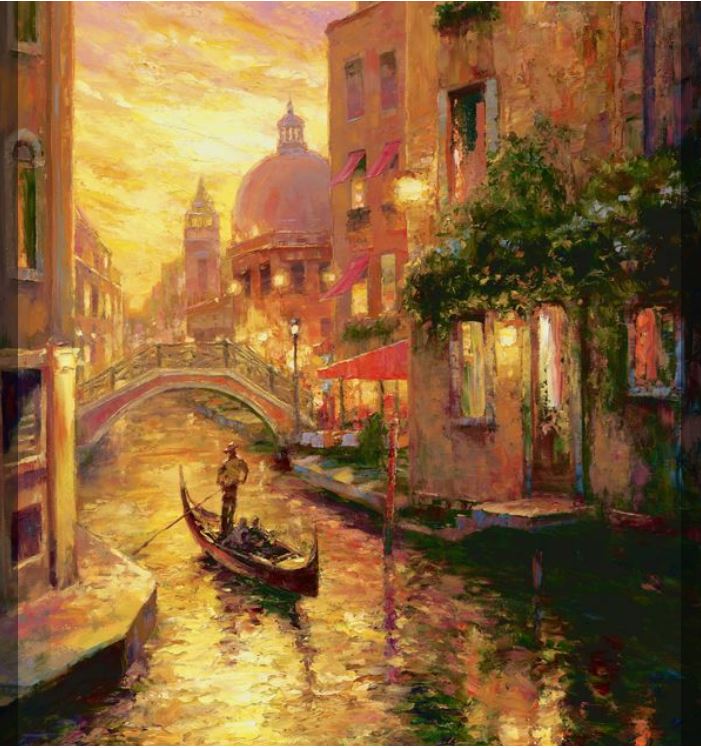 gold until they saw, framed in the narrow arch of the bridge, the whole reach up to the Palazzo Foscari like glass sprayed with the late flame of the setting sun. They were afloat on a gilded sea, lined with palaces whose windows were vivid with crimson. It was all there in front of them, beyond the dark, lifted prow, beyond the leaning silhouette of the gondolier – an incredible river of unconsuming fire. But as the gondola moved swiftly forward the gold as swiftly retreated, becoming black, lifeless oil, rippled with green, dying away into the grim, lapping channels between the mooring-posts. The fire was always just ahead, always a promise.
From a side canal another gondola lunged out close to their own, and then slipped away behind them.
Michael said: 'Happy?'
Rosemary nodded. The gondolier began to croon a song, softly, softly, as his craft leaped on towards the retreating radiance. From somewhere a faint breeze shivered suddenly, scudding the oily darkness behind and around them into transient ripples.
She said idly: 'Do you think we could ever be happier?'