Do you ever read poetry?
The music, starting up again in the room behind them, had a faintly wistful note even as the trumpets brayed, through its dissipation into the cold night air. Beside him Rosemary shivered. He put a confident arm about her shoulders.
'Cold?' he asked.
She shook her head in the moonlight.
'Just realising the war is really over,' she said.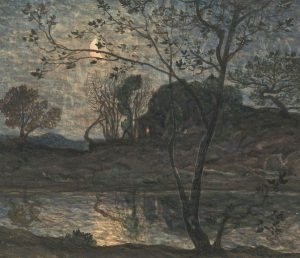 Roger said: 'Oh, the war …'
He bent down to kiss her but she turned her head suddenly upwards, forcing him to withdraw. He followed her eyes. There was only the moon, racing like a virgin through the clutching ranks of clouds.
He said: 'Nice moon.'
'Fond yellow hornlight wound to the west,' Rosemary said.
Startled, Roger asked: 'What's that?'
She looked at him briefly. 'Poetry. Do you ever read poetry?'
He said defensively: 'I did at school.'
Rosemary laughed. 'School! It must seem terribly close to you. I had forgotten how close it must seem. Do you know, I can't remember a bit of what school was like?