No Torquay this year
She had a litheness that surprised him. She twisted herself free and stood in the doorway. Steam rose from her wet arms, and tears were beginning to roll down the thin, white cheeks.
She said incoherently: 'Oh, you monster! I'll tell your mum. Don't you dare touch me.'
He said: 'Sorry, Nelly, it was only a joke. Don't tell Mummy. I'll give you half-a-crown.'
Nelly's abjectness was transformed into power.
'Keep your money,' she said. 'I know me rights. I'll see what your mum 'as to say. And my dad, too. 'E'll 'ave somethin' to say. You monster! I'm respec'able.'
Desperately, persuasively, he offered: 'Look, Nelly – here's five bob. It's all I've got. You're not hurt. Go on, take it.'
Surprisingly the tears turned into derisive, searing laughter.
'Scared of your mum, aren't you?' she said. 'I 'eard 'er this morning telling you off for bein' no good at school. An' you tryin' to lord it about. You are a poor thing.'
Lance said humbly: 'You won't tell her?'
Nelly was triumphant. 'I may do, and I may not. You get out of the kitchen for a start. Go on – scoot.'
He went out, back into the drawing-room, and finished writing the letter.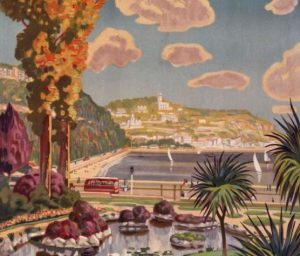 There was nothing in his world but fear and disappointment. Somehow, he was sure, Mummy was to blame. There was nothing he could blame in himself; he tried hard, but weakness and inability drove him on like storms behind a ship.
He realised suddenly: no Torquay this year. But the abyss was so wide that it could hardly open further.