Do you really not want him to come here?
She bent down, rubbing her cheek against his face. 'What is it, then? Tell me what it is.'
He overcame a reluctance. 'John seems to think we're still at Holly Ash. And still children.'
'Don't be silly, love. John's just John. I'm the one who should be irritated, if anyone. I always used to be. You know he doesn't mean anything when he tells people to do things. He always has done.'
'He takes things for granted, too. Or did you invite him to use this place as a pied à terre whenever he came up to London?'
This time there was surprise in her voice. 'I didn't need to, did I? Among the citizens, property was always held in common as far as possible. Do you really not want him to come here?'
He was silent for a moment. Distantly John's voice was audible, singing a ballad in his fine clear baritone. It had been foolish, he realized, to say anything. He put his own hands up and caught Patricia's.
'Of course not. I'm just in a mood, for some reason.'
'But you don't have moods.'
He laughed. 'John's probably right. He suggested I should give up my desk and join the fighting men.'
'But not seriously. Of course you mustn't. It's John's kind of thing, not yours.'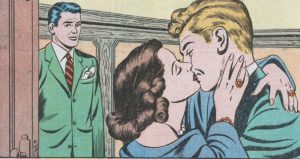 He pulled her hands, dragging her forward over his back and neck. His head was cushioned in her softness and warmth. 'Then in that case you must have been right. Just ordinary frustration – nothing more.'
She laughed softly against his ear and then swiftly tugged herself free. In a glass on the opposite wall he saw her smoothing down her frock.
'John's coming,' she said.