'I've met his kind before'
Lydia said: 'All this talk about Billy. I've met his kind before.' She put her hand out and Susan helped her to her feet. 'I'll go and have a chat with him.'
She hobbled out of the hut into the bright glare of sunlight. Although she shaded her eyes, the harshness of light and the heat invigorated her; a more humid warmth than she liked, but any kind of heat was preferable to cold. If one had to be marooned, she thought, this was as good a place as any. She stared appreciatively at the muscled figures of the Hawaiians, gleaming golden bronze with sweat. They were working on the annexe to the hut and Billy stood near them, white-shirted in the shade. Lydia called to him, and he looked in her direction.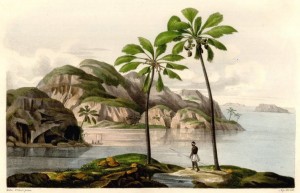 She began to walk, limping, towards him; in response he came towards her, breaking into a trot. As he approached, he said:
'Have you hurt your leg, miss?'
'Not much. Sprained ankle.'
'Let me help.' He put an arm out for her to lean on. 'We'll get you up into the shade.'
He was as he had been on the Diana: the obsequious fawning steward. She thought contemptuously of Marriott's concern. He called, and one of the boys detached himself from the rest.
'Lay out palm leaves for the lady to sit down. Moss underneath.' He said to Lydia in explanation: 'We found some soft moss up in the wood, miss. It will do for bedding.'
'You're doing pretty well, Billy,' she said.