Knights of the new establishment
The attitude of the yobs to the family seemed largely one of indifference. As long as they kept out of their way, they did not bother about them.
Their organization and code of living probably had a lot to do with this. The basis was military, with the Commander apparently holding absolute power. He was the only one who had a room to himself – a bed had been brought in to the office. The others slept on folding camp-beds, as many as eight to a room. They showed a weird combination of laxness and discipline. The former was the surface impression – the guards sat about, smoking, while on duty – but Rod noticed that the Commander and his two chief buddies were obeyed immediately and without argument.
During the first evening, the bikes roared off, returning a couple of hours later with pillion passengers. These were young girls, wearing hip-shorts under looted furs, and, clearly, familiar camp-followers. They cleaned and cooked for the yobs, and in addition supplied their sexual needs. But they were treated with contempt, and the whole thing operated on a mass basis. The girls – about twenty of them – were given a couple of big rooms at the end of the house, and called for, individually or in groups, as they were needed.
This gang, in fact, although not physically h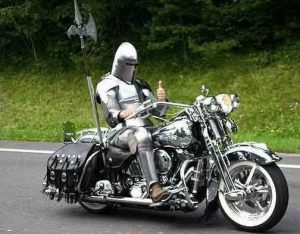 omosexual like some of the others, was entirely male-centred. The girls were chattels: a necessity, but to be kept down in case they proved a threat to the masculinity and cohesiveness of the group. As far as could be seen, they accepted this without resentment, and with a feeling of being honoured in having been chosen. It was necessary, Rod reminded himself, to realize how things looked from the standpoint of their generation. To people like himself, these were yobs – packs of delinquents who had taken advantage of a breakdown in society to strut and bully briefly on the world's stage. But they saw themselves as the overthrowers, destroyers of an old system, knights of the new establishment.