Like icing
Gordon drove slowly at first through the crowded streets; down the station road to the promenade and then to the east. On their right the sea rolled in across the cloud-flecked sands, sinking further below them as the road climbed up over rising ground. Gordon stopped the car on the cliffs, and they walked a few yards to stand by the railings that marked the edge. Far below them the waves hammered in over the rocks, breaking into brief efflorescences of spray. But further out the water was a level, unbroken grey-blue, stretching away until it merged with low clouds on the horizon. Some large bird was drifting down to the sea in wide, unhurried spirals.
Eve leaned impulsively forward over the railings.
'Oh, look!' she exclaimed. 'Isn't it lovely – like icing!'
Gordon felt strange. His head was dizzy from gazing down the depths below them and he had an unusual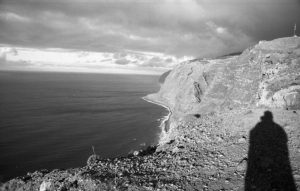 feeling of despair. There was nothing to which he could relate it. Even the end of the holiday was welcome in a way; it would be pleasant to be home again. But this feeling of despair, embracing the white fence and the long drop below it, was real enough to upset him.
He stepped back, almost involuntarily.
'Let's get on,' he said, brusquely. 'We shan't have time for a decent drive before lunch.'