Not saying any more than was absolutely necessary
'I like you more and more, Frank. You have co-operated with me splendidly in making this interview a success, by not saying any more than was absolutely necessary, and saying that in the right way and at the right time. I have had to say certain things which a less controlled person could have seen as innuendo, and taken violent objection to.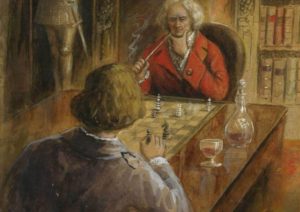 'Such a reaction, of course, would not in itself have shown the innuendo to be either justified or unjustified. Neither does your own self-control, but your self-control shows you are likely to be the man who will fulfil the moderate conditions I've laid down.
'And now – whether the remarks were innuendoes or not, and whether they were justified or not, I think we shall both succeed in forgetting them. We can return to our respective roles – you as a lover and I as the heavy-humoured father – with the happy knowledge of having set our relationship on an admirably firm basis. I think we could have another drink on it, don't you?'
He produced glasses and a bottle from the left-hand side of his desk, and set them up.
Frank said: 'Your good health, sir.'