Only blind groping
The pipe turned into a gallery. It was neither wide nor high, but it led upwards. It was also damp, with drops of water oozing through the ceiling onto them. Henry called another halt for a rest, and they crouched together. Cynthia remembered a time, when she was a girl, of crouching with boy cousins inside a small and rain-dripping tent. We were all miserable, she remembered with surprise, because it was raining.
Albrecht said: 'Your headlamp, Henry – the battery is almost gone?'
'I give it another five minutes.'
'And then?' Cynthia asked.
'The acetylene lamp.'
'And then?' she whispered.
'The candles.'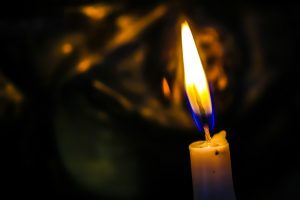 She said: 'I would rather go on. We'll have plenty of time to rest afterwards, won't we?'
When the headlamp had faded to a dim glow that showed nothing ahead, Henry lit the acetylene lamp. Cynthia remembered what he had said: about an hour's charge. Unlike the torches, that really meant an hour – the lamp could not be flicked on and off for economizing. They had been wandering for two days and nights in this warren of caves; it was futile to imagine that another hour would see them to safety.
After that, there would be the blundering about for an hour or so with the candles and then, presumably, the matches struck one by one and, in between, a blind groping forward. At the end, there would only be the blind groping.