We beat them
Eventually, anyway, Isaak accepted the invitation. He arrived, as I have said, a day late. He did not expect Dadda would be at home, and he wasn't. But Isaak had expected he would be at synagogue, not out collecting rents.
Mamma brought him through into the kitchen, where, since it was a cold, rainy morning, Anna and I were playing. He wore a reddish brown suit and carried a small bag; he had left a large suitcase at the foot of the stairs. He spoke English, but with an accent so thick and guttural that it was a long time before we understood more than the vague drift of what he was saying, or he understood our own Liverpool brogues. Like Dadda, he was a distinctively friendly man, but his was a more direct and confident friendliness. He was particularly good with children and prided himself on this; it was the more disappointment to him that his young nephew and niece responded so coldly.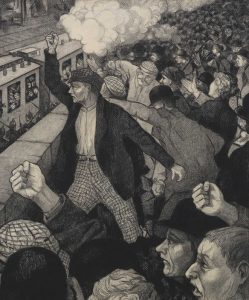 I am certain that, on my own, I would have liked him. But Anna did not. When Mamma introduced him to us, she said: 'This is Uncle Isaak, from Germany.' She went out into the scullery to make some coffee for him, and Anna, looking up at him with that expression which I always called her thin face, said:
'We fought the Germans. We beat them.'
He bent down to us, and Anna shrank away a little.
'War is a terrible thing,' he said.