Finish the game
I said to Solly: 'Where did you turn up from?'
He said: 'Benno and I enjoy a game of chess together. He wins mostly, but sometimes I run him close.'
They had met, I found, one afternoon in Byron Street, had paused, and greeted each other, and so gone on to talking. From that had come Solly's visits to play chess. It was odd, when one thought of the old days, that he had been visiting the Waterloo house for the first time, when Dadda had been there for fifteen years.
Solly was still working for the same tailoring establishment,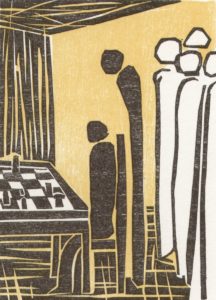 although a good while previously he had been, owing to the acceleration in his personal dilapidation, replaced as a salesman and given the job of storeman. He fetched and carried and cleaned up. He got very little pay, but his demands on life had always been modest.
It was this modesty of demand which now made him so welcome to Dadda. The only expense in entertaining him was an occasional light supper of bread and margarine, or biscuits, and cocoa. As it was Solly who visited him, Dadda did not have to spend anything on a bus fare. And Solly accepted all the stringencies of the house without question and without resentment. So, on this evening, they were sitting, straining their eyes, over the chess board.
I switched the light on. It was only a forty-watt bulb, but Dadda had had all the shades taken off the lights when he put the low-powered bulbs in; it lit the room adequately, throwing strange shadows behind the tall chess-men.
'Finish the game,' I said.