What the hell's going on?
'Hypnotism,' Grainger said, 'is mesmerism, cleaned up and cut down to size. The point about mesmerism was that it involved what was called rapport – operator's and subject's minds all tangled up with each other, subject in deep trance, but operator in mild trance, too. The modern medical profession likes a comfortable distance between doctor and patient; or what kind of authority would the weaker brethren be able to command? So Braid worked out a method for getting some of the mesmeric phenomena by remote control. He found that if you put a bright object before the eyes of a subject and got him to gaze at it persistently, he went into something like mesmeric sleep. You could then control him by suggestion, induce analgesia, that kind of thing. But none of this telepathic or clairvoyant nonsense. Best of all, he gave it a new name, derived from a nice reassuring Greek root, like all the best scientific terms.'
George said morosely: 'I don't see what all this has got to do with Ruth and the kid.'
'I've been talking about my personal views,' Grainger said. 'I think modern medicine is pretty good on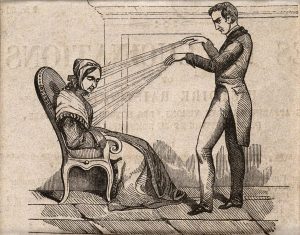 the structure of the body, not quite so good on the structure of the mind, and distinctly inadequate on the relationship between the two. Sorry if I've been boring you, but I've been trying to explain why my being the doctor wallah doesn't help in this case. My own branch of medicine is strictly physical. I've not looked much at the psychological fields because I mistrust their premises.'
Douglas said: 'Fair enough. But it was you that said the boy was dead in the first place, and you that said it was a medical certainty that he couldn't have survived being out there for that length of time.'
'Not so extraordinary. We are all conditioned to the usual. Catalepsy of that order is a very rare state. Surviving several hours' exposure to a severe winter night is rare, too, when the subject is a little boy in pyjamas and bare feet. The exceptional is not something you go looking for. You wait till it's thrust down your throat, and then you forget it, or explain it away, as soon as you can. I knew a Freudian psychiatrist once who saw a ghost. He had it accounted for, of course – a trick of light and sound, making up an hallucination – but he was honest enough to admit that, for some hours until day broke, he had believed that what he thought he saw had reality. When was he right – when he had had time to marshal his defences and rationalise things, or immediately after the experience itself?'
'Ghosts,' George said. He poured more drinks for himself and the others. Douglas put a hand over his own glass, to prevent this. 'Look, Selby, all we're asking you is what the hell's going on?'
Grainger took his glass, contemplated it, sipped and smacked his lips.
'Afternoon drinking,' he observed, 'has a frisson all its own. What's going on? Well, something odd.'
'Christ! We know that.'